Arguably Rörstrand's, and therefore Sweden's, most iconic dinnerware pattern is Ostindia. Designed in 1932 and based on a few shards of Chinese porcelain in Rörstrand's collection the pattern was an instant hit.
Rörstrand still produces Ostindia today and it is in fact still one of the most sold patterns here in the Netherlands.
I have bought and sold hundreds of pieces of Ostindia over the years, and it always stood out to me how different the new wares are in comparison to the vintage ones.
The new wares are very smooth, the printing is crisp with obvious dots from the printing process, also the flowers and the floral band on the rims are very straight and always exactly in the right place. The iron-oxide (a porcelain nut's word for rust) band on the rim is even and very straight. It is clear that this is a high standard, machine made, product.
The older wares have somewhat smudgy decorations, the iron-oxide is a bit uneven, the decorations are not always exactly in the same spot and the wares are less smooth and larger pieces even have marks of the supports used in the firing process
As I have gotten questions in the past about combining newer and older wares I felt it was good to do a little research. Since there is not much information readily available I have based all of my dates on this source: link.
Most of the wares I currently offer are made between 1951, when the word 'Sverige' on the mark was changed to 'Sweden' and the 1960s, when 'VDN' was added to the logo. I do have some VDN wares, and I'm lucky to do so, because they hold a clue to the biggest difference in older and newer wares.
When I looked at Rörstrand's own website today I noticed they claimed the wares were made of 'Feldspar Porcelain'. This surprised me because the wares I have are distinctly not porcelain. Although the items have a nice sound when struck (one of the ways to distinguish porcelain from other wares) it is not translucent (porcelain always is) and it is prone to staining (porcelain does not stain because even when unglazed it is completely impermeable).
According to the source mentioned above the later VDN mark had a letter included stating the material. The wares I have bear the letter F, standing for flintware. A 'P' would have meant porcelain. Flintware is a clay mixture that makes for durable dinnerware, but it's not porcelain. I can safely conclude that Rörstrand decided, at some point, that their most well known pattern had to be a bit more upmarket and they decided to change the material.
I am not writing this to discredit my own wares. They are full of vintage charm and I like them much much better than the very clean and industrial newer Ostindia. I do want to inform anyone looking to add new wares to an older set or vice versa, to be aware of small differences. It would not take the most cunning of guests to notice small differences on a set table, but who cares?
I wish I could tell you all when the change from flintware to porcelain was made. I do not have a very clear idea, although I guess it was in the 80s or 90s. I managed to find a lot of images of marks that I do not have exact dates for. I do have an image of a classic VDN mark with a 'P', indicating that this change was made before a newer mark came along that discards the VDN and the 'P' and simply says 'dishwasher safe', something flintware isn't really.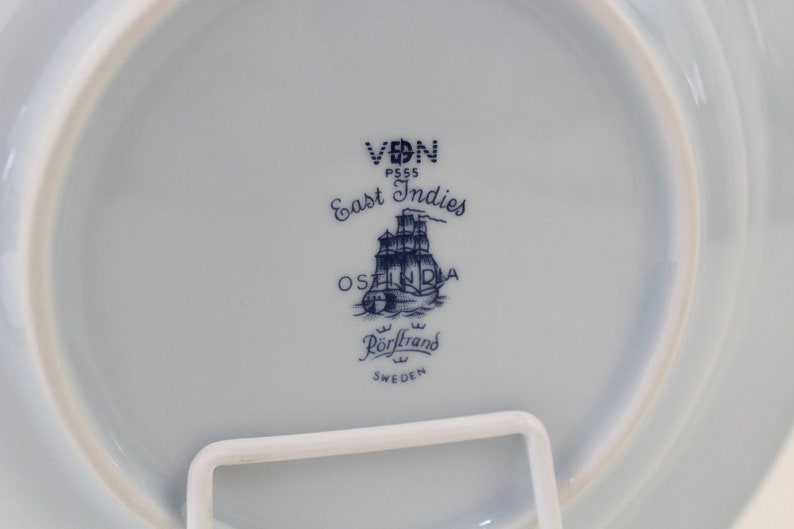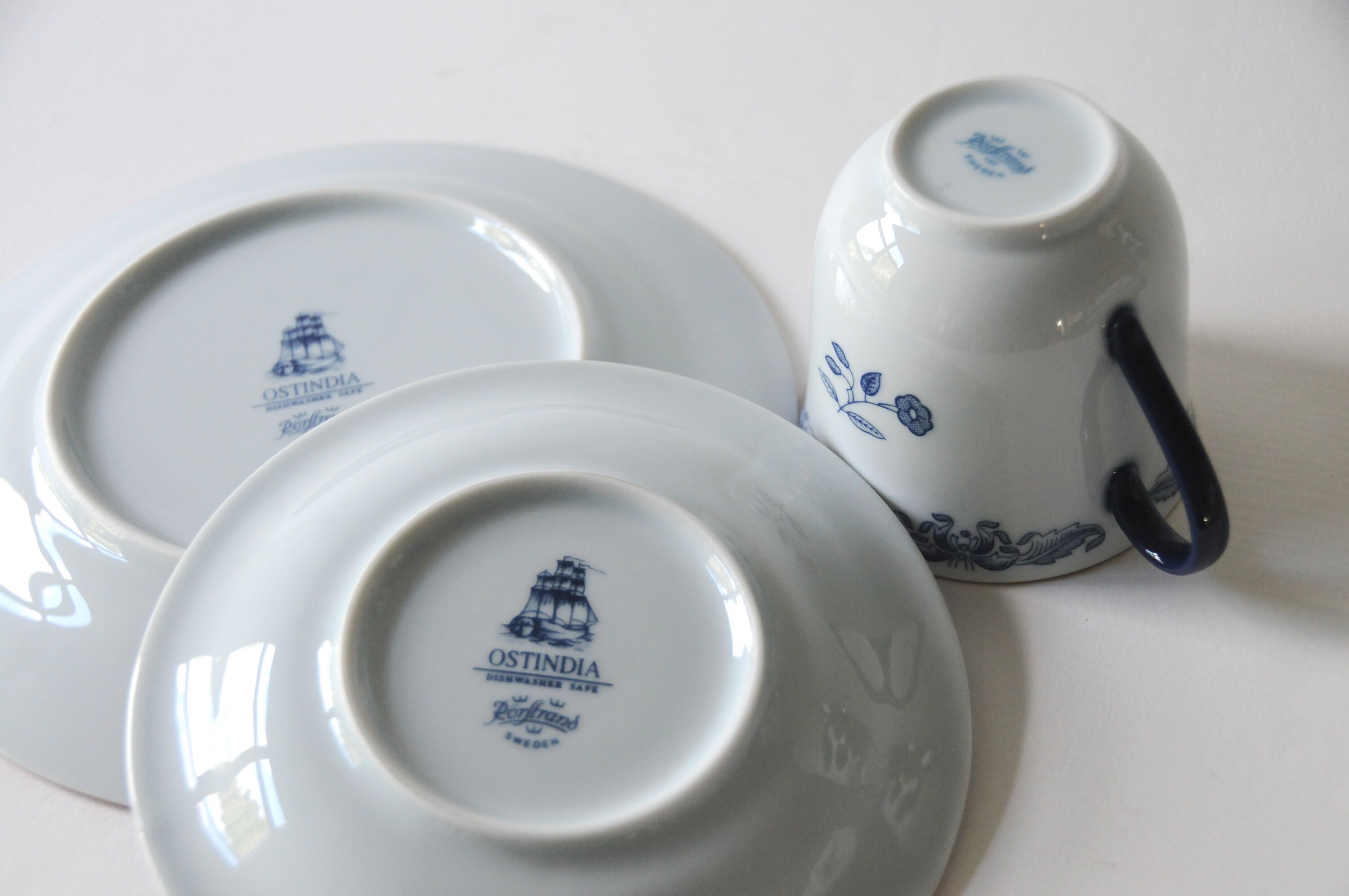 You can find all of our currently available Ostindia here: link.